Regular price
Sale price
799,54 DKK
Unit price
per
Sale
Sold out
DVD

Cardcaptors 

Discs

9 DVD's

Includes

Complete Series + 2 Movies 

Cardcaptor Sakura: The Movie

1999 ‧ 1h 26m  

Year

April 7, 1998 – March 21, 2000

Audio

NELVANA ENGLISH 90's Dub

Region

0 (Any DVD Player Worldwide) 

Features

 

Interactive DVD Menu, Episode Selection

Play All, 2 Premium Cases
Plot
Cardcaptor Sakura takes place in the fictional Japanese city of Tomoeda which is somewhere near Tokyo. Ten-year-old Sakura Kinomoto accidentally releases a set of magical cards known as Clow Cards from a book in her basement created and named after the sorcerer Clow Reed. Each card has its own unique ability and can assume an alternate form when activated. The guardian of the cards, Cerberus (nicknamed Kero), emerges from the book and explains that only a person with magical powers could open the seal of the book, clarifying that Sakura can do magic. Kero chooses Sakura to retrieve the missing cards. As she finds each card, she battles its magical personification and defeats it by sealing it away. Cerberus acts as her guide, while her best friend and second cousin, Tomoyo Daidouji films her exploits and provides her with both battle costumes and moral support. Sakura's older brother Toya Kinomoto watches over her, while pretending that he is unaware of what is going on.
Syaoran Li, a boy Sakura's age and a descendant of Clow Reed, arrives from Hong Kong to recapture the cards himself. While initially antagonistic, he comes to respect Sakura and begins aiding her in capturing the cards. Once Sakura captures all of the cards, she is tested by Yue, the cards' second guardian, to determine if she is worthy of becoming the cards' true master; Yue is also the true form of Yukito Tsukishiro, Toya's best friend who Sakura has a crush on. Aided by her school teacher Kaho Mizuki, Sakura passes the test and becomes the new master of the Clow Cards.
Cardcaptor Sakura: The Movie
Sakura Kinomoto, mistress of the Clow Cards, faces not only the wrath of an unsealed Clow Card, she also faces her own feelings for her friend Syaoran Li, who returns from Hong Kong for a visit.
The film follows
Sakura Kinomoto as she faces the final Clow Card alongside her friends and allies, and comes to terms with her romantic feelings for Syaoran Li
. The film won the Feature Film Award at the 2000 Animation Kobe. It was released on DVD in 2003.
Share
View full details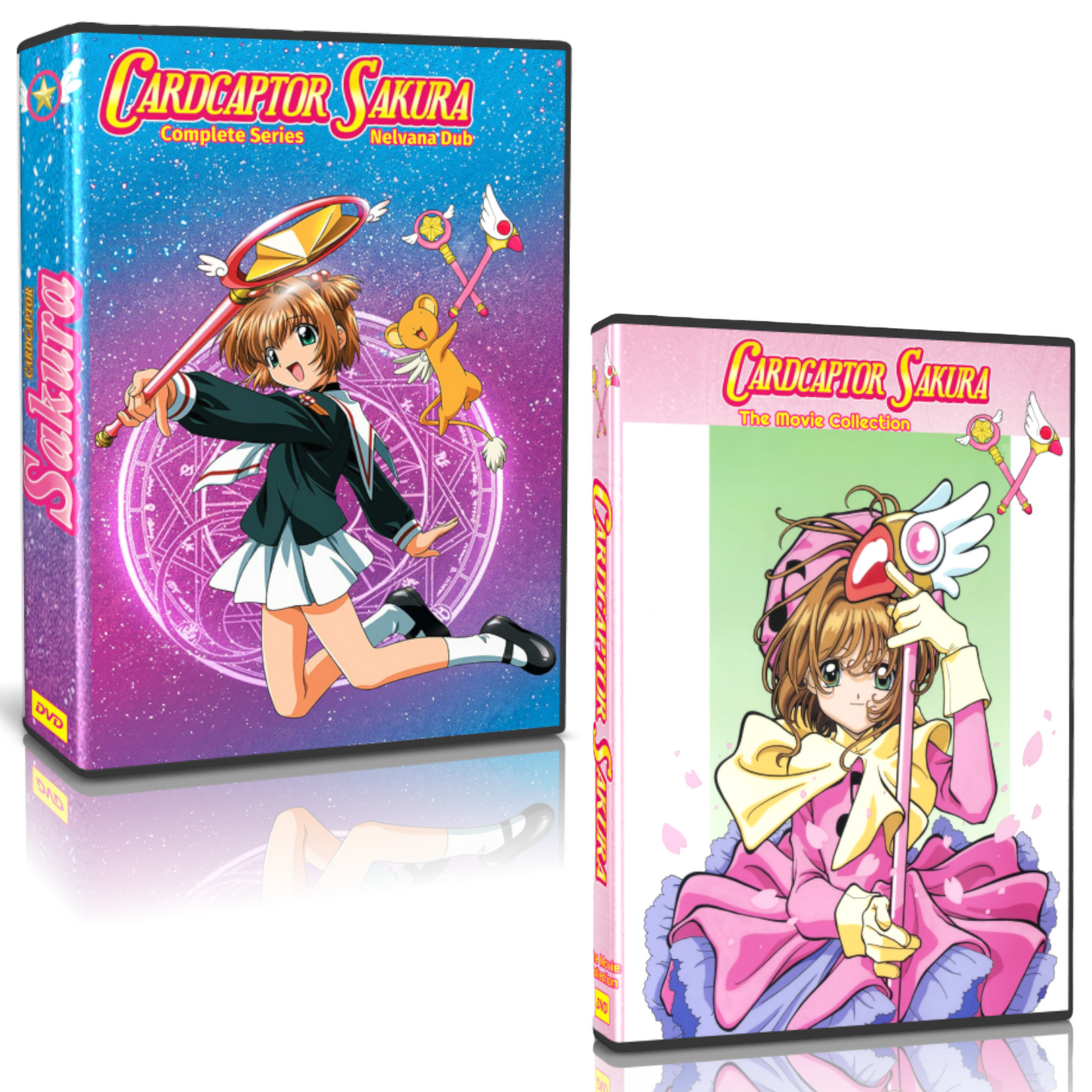 Collapsible content
DVD Details

-All Region play on any DVD Player Worldwide

-DVD w/ interactive menu including play all & episode selection

-Premium glossy Insert cover

-A Custom boxset, shipping sealed.

Shipping

Shipping & Handling
Once you make your purchase processing time for each order ranges from 3 to 10 business days. Higher volume orders and/or holidays may affect this timeframe.

Tracking
Visit the Order Status page to track your package. 
Sign Up

Sign Up

Register an account today to receive the latest promotions, plus access your member profile page to keep track of orders.